This article or section is a stub. You can help the One Tree Hill Wiki by expanding it.
Appearances
S1
,
S2
,
S3
,
S4
,
S5
,
S6
,
S7
,
S8
Baby Hall
was the daughter of
Chloe Hall
and Eric. She was meant to be given up for adoption to
Brooke Davis
and
Julian Baker
although Chloe later changed her mind and kept her daughter.
Character History
Shortly after Julian and Brooke got married they decided to adopt a baby due to Brooke's infertility. Soon after they meet Chloe, who had decided to give up her unborn child not wanting to raise her as a teenage single parent.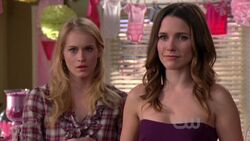 Season 8
When Chloe and the Bakers first met, Brooke told various lies to win over Chloe but soon it all unravelled. Brooke invited Chloe to her best friend Haley's baby shower but since only Haley knew way Chloe was there the others acted normally and talked about things like their experiences in jail. Although after Haley gave a touching speach about Brooke, Chloe decided to give her unborn child to Brooke and Julian. Although during her birth Chloe's ex boyfriend and the father returns and they decide to keep the baby.
Relationship
Family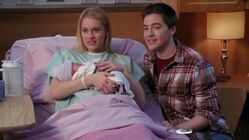 Chloe Hall was the mother of the baby, she fell pregnant to Eric, her ex-boyfriend. When she discovered her pregnancy, Chloe decided to leave her baby for adoption, and decided to give her baby to Brooke and Julian Baker. But Eric, the baby's father, was back with Chloe, to raise the baby. Chloe decides to keep her daughter. After, Brooke became pregnant and gave birth to twins, Davis and Jude Baker.
Trivia
She was born on April 19th, the same day as Lydia Scott.
Community content is available under
CC-BY-SA
unless otherwise noted.