This article or section is a stub. You can help the One Tree Hill Wiki by expanding it.
Chloe Hall was the mother of the daughter who was supposed to be adopted by Brooke Davis and Julian Baker soon after their marriage, but instead she chose to raise her daughter along with the father, her boyfriend Eric.
Character History
Chloe says she used to have a lot of friends but once she got pregnant she couldn't do any of the things they could so they drifted away. She also says that the father of her child was just as scared as she was when she first found out she was pregnant and that he had a life planned out for him and that the baby wasn't in the picture for him or her.
Season 8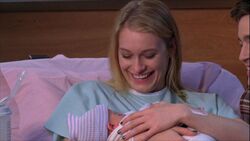 When Chloe and the Baker's first met, Brooke told various lies to win over Chloe but it later all unraveled. Brooke invited Chloe to her best friend Haley's baby shower but because only Haley knew why Chloe was there, the other girls acted normally and talked about things like their experiences in Jail. Although, after Haley gave a touching speech about Brooke, Chloe decided to give her unborn child to Brooke and Julian, but when Chloe held her daughter for the first time, she decided not to give her up for adoption.
Personality and traits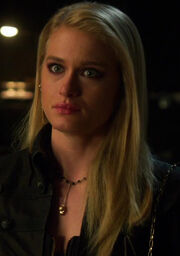 Although Chloe seemed like a sweet girl she had a very villainous side to her as shown when she joined a group.
Relationships
Romantic Life
While at University, Chloe had a relationship with a boy named Eric, this relationship ended when Chloe fell pregnant with their child. Left alone, Chloe decided to give up the baby for adoption, but while in labor Eric returned to raise their daughter together and Chloe agreed and didn't give her baby up for adoption.
Trivia
Community content is available under
CC-BY-SA
unless otherwise noted.