"Hardcore Will Never Die, But You Will" is the tenth episode of ninth and final season of One Tree Hill and the 184th episode produced in the series. It was first broadcast in March 14, 2012. Dan, Julian, and Chris Keller attempt to rescue Nathan. Brooke's conflict with Xavier escalates. Quinn and Clay revisit the past.
Synopsis
Plot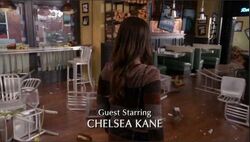 Voice-over
Memorable Quotes
Dimitri: You know there is probably a lesson to be learned here about greed, your father dead, my friends dead. Your people my people. Only one difference, you will join them, I will not. The death, I gave him. Thus bad begins, and worse, remains behind.

Music
"Chameleon/Comedian" - Kathleen Edwards
"Forests" - JBM
"Leave My Body" - Florence + the Machine
"Reset" - Lucie Silvas
Trivia
Although credited, Jackson Brundage (Jamie), Lee Norris (Mouth), Lisa Goldstein (Millie), and Stephen Colletti (Chase) do not appear in this episode.
When the small guard is replaced with the one that Chris later runs over, Chris asks what happened to the Marty-the-Midget-sized guy. This is a reference to his riverboat adventure with Nathan in How a Resurrection Really Feels.
When Chris hits the guard with his car and the alarm sounds, Dimitri says, "The bell invites me. For it is a knell which summons the to heaven or to hell." This is a quote from Shakespeare's Macbeth Act II, Scene I.

He quotes Shakespeare again right before getting shot: "The death I gave him. Thus bad begins and worse remains behind." This quote is from Hamlet Act III, Scene IV.

By far, this is the most violent episode of the series. Seven people are killed (four shot by Dan, one shot by Nathan, one run over by Chris, and the drug dealer dies likely from earlier beatings by Dan or possibly from being shot four times by Dimitri). Further, Brooke tasers Xavier in the heart, Julian knocks out the dirty police officer with a crow bar, leaving him unconscious and without help, and Dimitri shoots Dan, resulting in Dan's death in the following episode.
Community content is available under
CC-BY-SA
unless otherwise noted.