Occupation
Power Company Worker
Guardian Angel for the James family
James "Jimmy" James was the patriarch of the James family and the father of Haley, Quinn, Taylor, Vivian and several other children. Easy going, he put the happiness of his children and wife before anything else showcased when he fully supported Haley's decision to marry during her junior year. He and Lydia were touring America in an RV when they met Mick Wolf. James later died.
Character History
Early Life
Lydia and Jimmy married young and when she told her parents they were against the union between the two, although they did agree to it but Lydia said because of this she loved them a little bit less and had a weaker relationship. But the two went on to have a happy and successful married that produced seven children. ("The Desperate Kingdom Of Love")
Season 2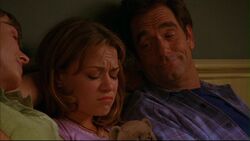 Jimmy is first shown with his wife Lydia James when her youngest daughter Haley asked for her parents permission to marry Nathan Scott although at first both Lydia and Jimmy think she is pregnant. It is also revealed that when Lydia and Jimmy wanted to get married her parents didn't want them to get married and she never forgave them for it. Once Lydia and Jimmy agree to allow Haley and Nathan to marry Lydia and Jimmy sell their house and buy a RV to travel around the country.
After the Series
After departing Tree Hill to travel with Lydia, Jimmy died. He died sometime during the period when his youngest daughter, Haley, attended college. Jimmy's grandson, Jamie, received a stuffed animal from his grandfather when he was a young child. Jimmy's death had a major effect on his wife, Lydia, who had to learn to live without him. ("My Attendance Is Bad But My Intentions Are Good") Haley and Quinn thought that their father was their Guardian Angel after his death.
Relationships
Family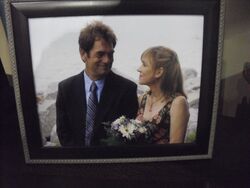 With his wife Lydia, Jimmy had four daughters: Vivian, Taylor, Quinn, and Haley. They also had three sons whose names have not been mentioned. Jimmy and Lydia had a close and loving relationship with all their children but had some problems with the second eldest daughter, Taylor, who was their trouble child. Jimmy and Lydia had multiple grandchildren through Vivian, a granddaughter, their sons, and Haley, who named both her children after her parents, James and Lydia Scott
Trivia