Name
Keith Scott Body Shop
The Keith Scott Body Shop was the auto shop that Lucas and Nathan's uncle Keith owns. Lucas works here and always sports the iconic Keith Scott Body Shop Service and Repair, particularly in his trips to the River Court. Lucas actually talks to his lifelong crush Peyton Sawyer for the first time while on a towing job for Keith, and this business has always been near to his heart since his childhood. The shop was later purchased by Hunico Hernandez.
In Season 6, Lucas revisits the site for the first time in years with his nephew Jamie to show him the pride of his childhood and help teach him about the idol of a person Keith Scott was to him.
History
Season 1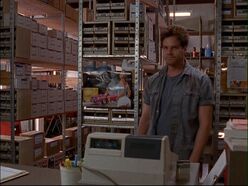 Season 2
Season 6
Employees
Trivia
Community content is available under
CC-BY-SA
unless otherwise noted.