This article or section is a stub. You can help the One Tree Hill Wiki by expanding it.
Mary Edwards
was the mother of
Jimmy Edwards
, a troublesome child who, after he grew apart from his friends, attempted suicide through drug overdose before achieving it after holding his school hostage. But because he was framed for the murder of
Keith Scott
, Mary was forced to grieve alone but with some help from
Mouth McFadden
and
Lucas Scott
. Even after Jimmy was cleared of his crime, she still wasn't able to move past her son's death.
Character History
Season 3
She first appeared in the episode in which Jimmy Edwards takes the school hostage. She is in the following episode at her son's funeral.
Season 4
Mary Edwards appeared in Season 4 Episode 19 "Ashes of Dreams You Let Die" to receive Jimmy's high school yearbook which Mouth McFadden had organized and given to her as a surprise. Mary was very thankful for what Mouth had done for Jimmy and the scene ended with Mary crying whilst hugging Mouth who had a tear in his eye.
Season 7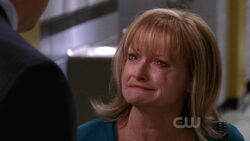 Years later, when Rachel and Dan decided to broadcast a live episode of Scott Free Redemption in the corridor where Jimmy and Keith died, Mary paid Dan a visit. After being mistaken for a fan asking for an autograph, she slapped him and was astounded that he didn't know who she was. She then reminded him that she was Jimmy Edwards's mother and that Dan had no right to profit from Jimmy's death, as he had done writing his self help books and presenting his talk show. She told Dan that he made everyone think Jimmy was a murderer, and now he has the nerve to talk about forgiveness. She then told him that she would never forgive him and left, making Dan further realize that profiting off the deaths of Jimmy and Keith wasn't right. ("You Know I Love You, Don't You")
Relationships
Romantic Life
Mary was married to Jimmy's dad. Jimmy's dad left the family after seeing Jimmy getting beat up by kids at school. Jimmy states this in the school shooting episode.
Community content is available under
CC-BY-SA
unless otherwise noted.