This article or section is a stub. You can help the One Tree Hill Wiki by expanding it.
Musical Guests have been a big part of One Tree Hill since Gavin DeGraw made a special appearance in the show's tenth episode and, because of the large impact music has on the series, such appearances have been a common feature of many different episodes throughout the show's entire run. As of Season 8, 19 acts have appeared on the series as musical guests.
Music Guest Appearances
Gavin DeGraw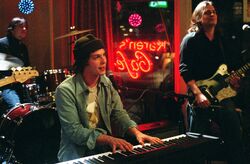 Episode: "You Gotta Go There To Come Back"
Songs Performed: "I Don't Wanna Be"

Gavin DeGraw was closely tied to the series, with his song "I Don't Wanna Be" acting as the show's opening theme from the second episode. The song was also heard during "All That You Can't Leave Behind", but Gavin performed it for the first time during the episode "You Gotta Go There To Come Back". With Karen in Italy, Deb and Haley tried to ensure the Cafe ran smoothly with Deb managing and so decided to hold an open mic night. While helping to plan the night, Peyton ran into Gavin DeGraw and asked him to play at the Cafe and he agreed. That night, Haley introduced Gavin and his band as they played "I Don't Wanna Be". ("You Gotta Go There to Come Back")

Sheryl Crow
Episode: "The First Cut Is The Deepest"
Songs Performed: "The First Cut Is The Deepest"


Sheryl Crow was the second musical guest on One Tree Hill appearing in the episode The Frist Cut is the deepest she performed her song at Karen's café for Nathan and Haley who missed her concert.
The Wreckers
Jimmy Eat World
Fall Out Boy
Nada Surf
Jack's Mannequin
Michelle Featherstone
Lupe Fiasco
Within Reason
The Honorary Title
Grace Potter
Angels & Airwaves
Nick Lachey
Noisettes
Cheap Trick
Kid Cudi
Olin and the moon
Character Performances
Jake Jagielski
Haley James Scott
Chris Keller
Mia Catalano
Grubbs
Erin Macree
Alex Dupre
Community content is available under
CC-BY-SA
unless otherwise noted.