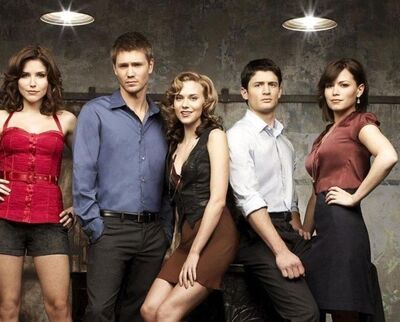 One Tree Hill is a teen/young adult drama series created by Mark Schwahn for The WB. The long-running series premiered on September 23, 2003, and ended on April 4, 2012. The main cast from Season 1-6 (left to right): Lucas, Peyton, Nathan, Haley e Brooke. The series chronicled the lives of five high school friends living in the fictional town of Tree Hill, North Carolina, whose lives collided when Lucas Scott joined his half-brother Nathan's high school basketball team. The initial animosity between the brothers, fueled by the influence of their often regretful parents, sparked a major confrontation which became thrice as fierce when three beautiful girls became further entwined in the brothers' lives. Lucas' best friend Haley James tested her loyalties and slowly started to fall for Nathan after breaking through his bad-boy persona; Peyton Sawyer struggled to choose between her head and her heart when it came to Lucas - even more so when her best friend, party-girl Brooke Davis, finally removed her facade and truly fell for the one-time outsider. All the lives of the five teenagers and their friends collided and drama was certain to follow.

After the series' sixth season, Lucas and Peyton depart Tree Hill and three new regular characters are introduced: Haley's older sister Quinn James, Nathan's agent Clay Evans, and actress Alex Dupre, who was hired by Brooke as the new face of her company. Over the course of the next three seasons, Quinn and Clay's relationship develops as Clay tries to come to terms with the death of his wife, Sara, while Alex causes conflict between Brooke and Julian Baker.
Throughout the nine seasons of One Tree Hill, audiences have been shocked and astounded as they dealt with their high school dramas, and later, faced the pressures of living adult lives.
Click here for a full list of characters and cast.
New To The Wiki

Get involved in Sign up.
See the Help pages for assistance on what to do next.
Check out the Manual of Style for help with your editing.
Contact your admins if you get stuck
Welcome to One Tree Hill Wiki, and happy editing
Featured Article for May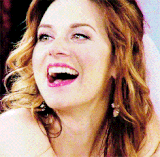 Peyton Sawyer is one of the original "core five" members of the show. She is the only daughter of Anna and Larry Sawyer. Peyton is also the wife of Lucas Scott and the mom of their only child : Sawyer Scott.
Peyton was originally a rebellious cheerleader who first met her husband, Lucas Scott, during their junior year, when she was the girlfriend of the popular jock Nathan Scott, who also happened to be Lucas's half-brother. Peyton struggled through the death of both her biological and adoptive mothers, but overcame the hardship and emerged a stronger woman from it. She was known for her strength and independence. Portraying her emotions through art and music, Peyton established a music label after a miserable start of her career in the music business with a big label in Las Angeles . Introduced as the troubled, beautiful cheerleader, music and art-loving girlfriend of Nathan whom everyone wants to date. She was best friends with Brooke and gets to know Lucas because of his joining the basketball team. Her personality had been so magnetic that a number of men have loved her. She was more rational and grounded, compared to Brooke but not as much as Haley. Her personal struggles have shaped her and haunt her but her happy ending was hope that even the most torn of us could have our fairytale life and all our dreams come true. She was one of the most motivational, strong and unabashedly real character on the show and as stated by Lucas, her soulmate, she was destined for greatness as she was noble. Peyton is also : funny, smart and sarcastic. She was also very nice. She saw the good in people and wanted to help them. A lot of guys had crushes on her. She is similar to Karen Roe.
Peyton was always best friends with Brooke Davis, a friendship that overcame many troubles during high school and managed to survive even after graduation, despite a vast geographical separation.
(more)...
---
Disclaimer: Please note this wikia site is in no way affiliated with the CW or any other persons or organizations responsible for the production of One Tree Hill. All trademarks and copyrights belong to their respective owners, and are used here under the terms of Fair Use. All images and videos © copyright of the CW.
Community content is available under
CC-BY-SA
unless otherwise noted.