This article or section is a stub. You can help the One Tree Hill Wiki by expanding it.
Appearances
S1
,
S2
,
S3
,
S4
,
S5
,
S6
,
S7
,
S8
,
S9
Appearances
S1
,
S2
,
S3
,
S4
,
S5
,
S6
,
S7
,
S8
,
S9
Sam and Lil Kay were Sara Evans's parents and Logan Evans's maternal grandparents. They raised their grandson after their daughter's death until Sara's husband and Logan's father, Clay Evans, came back and took Logan to live with him.
Character history
Sam and Lil had a daughter, Sara Kay, who married Clay Evans during her twenty years and gave birth to a son, Logan. But she died at the age of 25. Her husband was so sad that he blocked out Logan. So Sam and Lil took Logan with them and raised him.
Season 9
Logan goes to a hospital where he meets Clay. Eventually, Clay remembers that he has a son and that he is Logan. Later Logan returns to his grandparents, but Clay goes to see them and asks them if they hate him. They answer no. Clay comes back and aks if he can take Logan with him.
Trivia
Sara's full name was Sara Kay Evans. But it's unknown if Kay was her middle or maiden name. It was probably her middle name.

But if Kay was Sara's maiden name, Kay is the last name of her parents.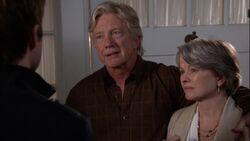 Community content is available under
CC-BY-SA
unless otherwise noted.