Jurassic World: Dominion Dominates Fandom Wikis - The Loop
Play Sound
Season 6 of One Tree Hill aired on September 1, 2008 on the CW network and ended on May 18, 2009 with the season finale. This season consists of 24 episodes, the longest season to date.
Summary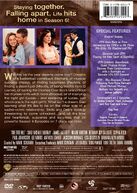 "Will this be the year dreams come true? Dreams of a basketball comeback (Nathan), of finding a decent job (Mouth), of being like his hero Q (Jamie), of saving the Clothes Over Bro's brand from her rhymes-with-witch mom (Brooke) or of marrying the right girls (Lucas - and speaking of Lucas, just which one is the right girl?) What isn't a dream: Dan learning what it's like to be on the other side of a sadist-victim relationship, Skills and Deb's hook up threatening to come unhooked ... all the love and heartbreak, suspense and surprises that one season can hold."

- Season Six DVD Blurb
Plots
The season chronicles the second year of the group's lives after returning to Tree Hill. Some of the key plot points are
Cast
Principle Cast
*After Things a Mama Don't Know, only credited if featured in the episode
Episodes
#
Image
Title
01
Touch Me I'm Going to Scream, Part 1
The girl of Lucas' dreams shows up at the airport. Nathan's comeback is halted by news that could change his career, while Dan's life hangs in the balance. Mouth and Millicent wrestle with leaving Tree Hill, as Brooke and Victoria's battle over Clothes Over Bros comes to a surprising head.
02
One Million Billionth of a Millisecond on a Sunday Morning
After Lucas and his fiancée enjoy planning their dream wedding, Brooke and Peyton reconnect. Nathan works with Quentin on his basketball skills, but Haley is worried for Nathan's well-being and reeling from a threat to her store, Brooke reaches out to an unexpected ally. Jamie catches Skills and Deb kissing.
03
Get Cape. Wear Cape. Fly.
Lucas returns from Las Vegas to face a tragedy, as Nathan and Haley struggle to find a way to help Jamie understand the death of someone close to them.
04
Bridge Over Troubled Water
Lucas struggles to inspire the Ravens, while Haley investigates the disappearance of Dan. Brooke confronts an old demon from her past, as Nathan comes to terms with Deb's relationship with Skills. Peyton is surprised when a famous musician visits her studio.
05
You've Dug Your Own Grave, Now Lie in It
Lucas and Lindsey face a tenuous future, while Nathan receives an offer from a pro basketball team. Brooke struggles with giving up her company while Peyton discovers a dark secret about her new recording artist. Haley unwittingly puts Jamie's life in peril when she learns the truth about Dan, which leads to a final showdown with Carrie.
06
Choosing My Own Way of Life
When Lucas begins his book tour, he is joined by a familiar face. Nathan is given an opportunity to play basketball again, which forces him to question his health and Haley tries to help a student in need. Brooke considers a life-changing proposition while Peyton and Mick have a confrontation over his identity.
07
Messin' with the Kid
Nathan and Haley must parent Jamie in the face of a school bully, while Lucas and Peyton adjust to life as a live-in couple. Brooke finds being a role model not as easy as she expected, and Mouth tries to get his old job back.
08
Our Life Is Not a Movie or Maybe
Lucas' novel receives unexpected and surprising interest, as does Mouth from his new intern. Jamie grows enamored of Sam and her rebellious facade, while a would-be suitor grows enamored of Brooke. Meanwhile, Haley counsels Nathan as his basketball comeback gains momentum.
09
Sympathy for the Devil
The past comes home to roost as the residue of deception, anger and romantic mistrust permeates the lives of several Tree Hill residents. Nathan finds himself face-to-face with an old rival, Brooke deals with someone who once hurt her, and Lucas's novel leads him into unchartered and threatening waters.
10
Even Fairy Tale Characters Would Be Jealous
On the day of Peyton's USO Concert, Haley battles stage fright and Nathan struggles with a decision that could change his career. Brooke gets a call that threatens her relationship with Sam and Millicent confronts Mouth on his relationship with Gigi. Angels and Airwaves make a guest appearance.
11
We Three (My Echo, My Shadow and Me)
In a very special episode, Chad Michael Murray pens an homage to the classic films of the 1940s. Karen's Cafe is transformed into a glamorous nightclub with Lucas as its proprietor.
12
You Have to Be Joking (Autopsy of the Devil's Brain)
As Lucas takes a trip to Hollywood to meet his film director, Nathan gets a pro basketball try-out. Peyton struggles with Mia to focus on her follow-up album, while Millicent confronts Mouth about Gigi. Julian approaches a dubious Brooke about designing clothes for his movie, and Haley takes a reluctant Jamie to his school talent show.
13
Things a Mama Don't Know
Peyton receives some startling news that she must share with Lucas who, while still in LA, discovers that Julian has been keeping another secret regarding the movie. Nathan struggles in a new professional environment, and Brooke's search for runaway Sam forces her to confront her own feelings about the night of her attack.
14
A Hand to Take Hold of the Scene
As news of Peyton's condition spreads, Mouth and Millicent struggle to remain a couple and Brooke tries to suss out Julian's intentions. Peyton and Lucas babysit Jamie and his friend, while Haley and Nathan spend a night out together.
15
We Change, We Wait
Lucas and Julian struggle to choose a director for their movie while Peyton has mixed feelings about a surprise gift from Lucas. Brooke struggles with issues about her relationship with Julian and Mia finally feels inspired by Chase.
16
Screenwriter's Blues
Lucas wrestles with casting for his movie while Peyton tries to prepare for their future. Dan advises Jamie on a school crush. Brooke meets the actress who will play her while Nathan gets exciting news, and Haley has to make a tough decision at school.
17
You and Me and the Bottle Makes Three Tonight
Peyton and Lucas receive a startling surprise about the pregnancy, as Brooke and Julian's relationship comes to a crossroads. Nathan and Haley celebrate their anniversary, while Dan and Deb babysit Jamie. Meanwhile, Mouth and Millie try to pick up the pieces of their relationship.
18
Searching for a Former Clarity
Lucas and Julian hit a setback with the production of the film. Peyton and Haley help Mia with her new single. Brooke must intervene when Sam is arrested and Jamie discovers the truth about Dan and Uncle Keith.
19
Letting Go
Julian makes Brooke a startling offer. Lucas brings Nathan and Jamie to an important place from his past, while Peyton prepares for the future. Sam and Jack take a stand against the principal who fired Haley. Skills takes Mouth on a road trip to get his mind off Millie.
20
I Would for You
When Peyton's pregnancy is threatened, Lucas struggles to pick up the pieces while Victoria returns to lure Brooke back to Clothes Over Bros. Haley and Nathan clash over the decision to pull Jamie from his school and Mouth tries to mend fences with Millicent.
21
A Kiss to Build a Dream On
Brooke discovers something that could change Sam's life. Nathan questions his dreams of playing in the NBA while Haley receives an unexpected offer from Nick Lachey. Jamie and Skills mend their broken hearts at Jamie's first school dance and Lucas and Peyton remember a memorable road trip they took together after High School.
22
Show Me How to Live
Brooke and Haley throw Peyton a baby shower, while Sam grows closer to Victoria. Lucas and Jamie bond while working on Peyton's car, and Nathan learns that NBA scouts will be at his next game. Meanwhile, Skills and Lauren go on a date that goes all wrong.
23
Forever and Almost Always
Peyton and Lucas' wedding day has finally arrived and surprise guests attend. Haley plays an unexpected role in the ceremony while Nathan hopes to be called up to the NBA. Skills keeps Jamie on a short leash, and Brooke does the same with Nick Lachey.
24
Remember Me as a Time of Day
Nathan is released from the Chiefs, and is forced to face Haley and Jamie. On the eve of Peyton's delivery, Lucas and Peyton receive a surprise visit from Karen. Dan is on death's door, while Brooke and Victoria prepare to re-launch Clothes Over Bros.