Premiere Air Date
January 11, 2012
Finale Air Date
April 4, 2012
DVD Release Date
April 10, 2012
Season 9
 of
One Tree Hill
aired on January 11, 2012 on The CW network and comprised of 13 episodes. It's the final season of One Tree Hill.
The series was officially renewed by The CW for a ninth and final season on May 19, 2011. Two days later it was announced that season nine would be the final season. It premiered on Wednesday, January 11, 2012 at 8:00 pm and aired its 13 episodes uninterrupted.
Paul Johansson and Tyler Hiltonn returned for the final season as series regulars. Bethany Joy Lenz and Sophia Bush continued as full-time regulars, while James Lafferty appeared part-time due to Nathan Scott's abduction. Chad Michael Murray returned in episode seven, after Haley reaches out to Lucas for help. Barbara Alyn Woods also returned. The series finale featured a time-jump, depicting the characters' lives five years in the future where Jamie Scott is seen as a 17-year-old playing in a high school basket ball game with his friends and family watching.
The season opened to 1.75 million viewers and a 0.9 Adults 18-49 rating, up 26% in viewers vs. its season eight finale. The final episode aired on April 4, 2012, concluding the series with 1.43 million viewers.
Summary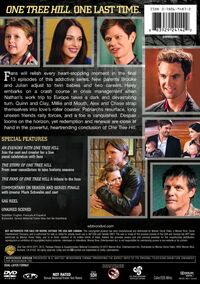 The ninth and final season of One Tree Hill welcomes new hopes, challenges and dangers. Now parents of twin boys, Brooke and Julian are excited for the future. But while Brooke works on rekindling an old relationship, will Julian be able to juggle the demands of fatherhood as well as a new business venture? Though Clay and Quinn came through their past struggles stronger than ever, a different kind of demon now threatens their relationship. On "Mouth and Millie in the Morning," our favorite talk show hosts are excited to report Tree Hill's latest, only this time there is an elephant in the room. And after welcoming baby Lydia, will Nathan and Haley be able to keep their family intact when they are faced with their greatest threat yet, especially when Dan Scott returns? Here we go again, into the challenges that come with the quest for happiness, in a place called Tree Hill.
- Season Nine Blurb
Plots
The season chronicles the character's seventh year (seen as the season 8 finale shows the events of a 8-9 month period.) after returning to Tree Hill. Some of the key plots are:
Haley and Nathan deal with his increased traveling and Haley dealing with raising two children and running Karen's Cafe.
Dan Scott causing drama when returning to Tree Hill including being arrested despite being innocent.
Chris Keller returning to Tree Hill to help with Red Bedroom Records.
Lucas returns after Haley reaches out to him for help.
Deb returns to Tree Hill for unknown reasons and will be again confronted by Dan.
Brooke's estranged father Richard Davis returned to Tree Hill.
Xavier Daniels returns to Tree Hill, only to confront Brooke with deadly consequences.
Mouth McFadden gained a lot of weight and Millicent is worried about him.
A beloved Tree Hill resident will meet their end midway of the season
The final episode of the series will have:
Cast
Principal Cast
*Until the episode In The Room Where You Sleep.
**Until the episode Danny Boy.
Episodes
#
Image
Title
01
Know This, We've Noticed
As Brooke and Julian begin to adjust to life with their new children, Haley and Nathan find themselves dealing with similar issues. Although they don't know it yet, faces from the past threaten to interrupt plans for all their futures. Meanwhile, a mysterious problem arises for Clay and Quinn.
02
In The Room Where You Sleep
Brooke discusses a new business venture with her father, as Julian stresses about his own investment. Quinn convinces Clay to get help, and Millie struggles to be honest with Mouth . Meanwhile, Chris Keller makes Alex an offer she may not be able to refuse and Nathan volunteers to scout in Europe, leaving Dan with Haley and Jamie.
03
Love The Way You Lie
Dan helps a struggling Haley at Karen's Café. Meanwhile, Quinn discovers that Clay is hiding something from her, and Chase tries to mend a broken heart. Brooke is let down by her lunch plans with her dad, and Julian makes a life-changing mistake.
04
Don't You Want To Share The Guilt?
Haley and Jamie anxiously await Nathan's return - As Julian deals with his guilt, Brooke helps Haley confront a new rival café, and its difficult owner. Meanwhile, Chase's new girl has a complicated secret, and Quinn takes extreme measures that help Clay realize he's worse off than he thought.
05
The Killing Moon
Nathan is missing and Haley fears the worst - As Quinn distracts Jamie, Haley searches for Nathan. Clay finally gets answers about his condition. Meanwhile, Julian attempts to get back to a normal life, while Brooke tries to give Tara a chance.
06
Catastrophe And The Cure
Dan enlists Julian to help in his search for Nathan. Mouth fills Clay in about Nathan, as Haley explains Nathan's disappearance to Jamie. Brooke gets an idea of how to bring patrons to an empty Karen's Café, and Chris Keller confronts Chase about Tara.
07
Last Known Surroundings
Haley seeks help from Lucas as Nathan makes an escape attempt. Brooke comes face-to-face with Xavier. Julian uncovers evidence that assists Dan in his search for Nathan. Clay makes a connection with another patient.
08
A Rush Of Blood To The Head
Haley receives news of a possible tragedy. Dan's search for Nathan leads him back to his dark past. Clay has a breakthrough in his treatment. Brooke and Julian deal with Xavier. Chase's concern for Chuck pushes him to his limits.
09
Every Breath Is A Bomb
Brooke and Julian take new measures to protect their family. Skills helps Mouth get to a turning point, and Chase faces consequences for defending Chuck. Clay reaches a new understanding with Logan.
10
Hardcore Will Never Die, But You Will
Dan, Julian and Chris Keller attempt to rescue Nathan. Brooke's conflict with Xavier escalates. Quinn and Clay revisit the past.
11
Danny Boy
The search for Nathan becomes increasingly dangerous, and Dan's life hangs in the balance. Brooke is surprised when her father returns. And Clay and Quinn reconnect with Logan.
12
Anyone Who Had A Heart
As Haley prepares to emcee the annual Tree Hill Burning Boat Festival, Brooke uses the opportunity to process her father's betrayal, while Julian tries to breathe new life into a past idea. Mouth and Millie make a change to their morning show, and Clay and Quinn get ready for Logan's first night at the beach house.
13
One Tree Hill
In the final chapter of One Tree Hill, the tenth anniversary of Tric brings old faces and new possibilities for the Tree Hill family.
Related Episodes
One Tree Hill: Always & Forever - Before the final episode aired, the cast of the final season were interviewed about their time on the show and their feelings on leaving including clips from the show.
Community content is available under
CC-BY-SA
unless otherwise noted.