This article or section is a stub. You can help the One Tree Hill Wiki by expanding it.
Shelley Simon was a Tree Hill High student and the founder of the Clean Teens group. After falling pregnant and having her heart broken, Shelly became abstinent and formed the group. She had a relationship with Marvin McFadden during her senior year but she broke up with him after sleeping together because of her being "the" Clean Teen. After graduation she returned, having dropped Clean Teens and decided to just be herself.
Character History
Before the Series
Shelley got pregnant after sleeping around at church camp. She secretly had an abortion. When confiding with Brooke about her decision, she revealed her deep regret doing it, telling her that once you do it "you can't take it back" before running off in tears. She had a serious relationship with someone over the summer, eventually, however her parents stopped her from seeing him and after the summer was over, she saw him with his new girlfriend. He completely ignored her, causing Shelley to create Clean Teens.
Season 4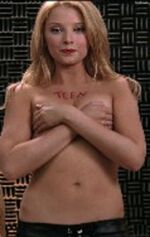 Shelley is the leader of Clean Teens and after hearing rumors that Brooke is pregnant she tries to recruit her. While Brooke and Rachel are stealing test answers from the school at night, Principal Turner catches them and they make up that they are there for a Clean Teen meeting. Shelley is paired with Mouth on a class assignment designed to have students get to know each other on a deeper level beyond stereotypes and then take pictures of each other for the school yearbook. Shelley opens up to Mouth about her past and confesses that she feels constrained by her Clean Teen reputation. She says she has a pair of leather pants she is dying to wear, but doesn't because of her image. Mouth insists that she pose topless with the leather pants on for her yearbook photo. She goes through with it and briefly dates Mouth afterward.
Relationships
Romantic Life
Marvin McFadden

Start Up: "Pictures Of You" (4x13)
Broke Up: "Prom Night At Hater High" (4x15)

Reason: After having slept together, Shelley didn't trust herself to stick to her Clean Teen values around Marvin.
Community content is available under
CC-BY-SA
unless otherwise noted.