"Things I Forgot At Birth" is the second episode of the fourth season of One Tree Hill and the 69th produced episode of the series. It was broadcasted on October 4, 2006. As Nathan, Rachel and Cooper's lives remain precarious following the car accident, Brooke celebrates her 18th birthday but finds it diminished by her struggles with Peyton. Lucas and Karen come to terms with her pregnancy and with the pregnancy of someone close to Lucas, while Deb's past addictions intersect with Haley in an explosive manner.
Synopsis
Nathan remembers being underwater, he swims through the limo and remembers as Cooper grabs his hand and says to him 'we're both dead.' He wakes up on the bridge shocked at where he is. Lucas is telling Peyton how him and Brooke broke up, and as she is about to tell him she has feelings for him, the lights switch off. She tells him it normally happens once in a while and it freaks her out. Lucas assures her it is ok as he is there and takes her hand as he tells her he is going to get Brooke back. As the lights switch back on, Peyton unsuccessfully tries to talk Lucas out of it, as the two realize it is midnight, Brooke's birthday. Brooke meanwhile, unpacks all her stuff and looks through an old photo book thinking of the mess she's made. Nathan gets home and lies to say he has been with Cooper all night. Haley tells him she remembers Rachel grabbing the wheel and if Cooper dies, it is her fault. Nathan asks if she saw anyone else in the water, but Haley is confused by that comment but the phone interrupts them as Cooper wakes up. In the hospital, Rachel and the detective go in to ask questions. He remembers Rachel grabbing the wheel as they argue, just as the limo swerves out of control and they crash off the bridge after seeing Haley and Nathan. He tells the detective that it was his fault as he was going too fast, and then as he leaves he asks Rachel how the baby is, not her. Rachel confesses she is not pregnant and Cooper kicks her out. Dan receives a package and the man asks him to sign for it and addresses him as 'Mr Mayor,' but Dan mishears it as 'Mr Murderer.' At the river court, Skills and Lucas are talking about how he is going to get Brooke back, just as Peyton arrives and asks him who he wants in his whole life which Lucas replies Brooke, so Peyton offers a way to get her back.
Peyton, Lucas and Skills go back to her room and they talk about how she nearly got in touch with her brother. The conversation then moves onto how Lucas will get Brooke back, by doing a ritual that the girls normally do every year. Lucas wonders why she is helping and why Brooke would even go, but Peyton says she is helping him not her and that if she does show, then there is hope for her as well as him. Rachel gets home to find Brooke trying on a pregnancy bump, as she asks what she is doing, Brooke tells her that she is thinking of designing a maternity line for her fashion line Clothes Over Bros as everyone seems to be getting pregnant lately in the celebrity world. As Rachel puts her bag down next to some flowers, Brooke assumes they are for her birthday, but it is from Rachel's parents saying they are glad she didn't die. She gives Brooke the flowers as her parents had forgotten her birthday, but Brooke is less than pleased to receive the 'second hand death flowers.' In Karen's cafe, a customer complains about their food being wrong, and the wait to Deb. As she does, Deb insults her size and begins eating the salad, as Haley watches in disgust and shock. Nathan goes to see Cooper who thanks him, but Nathan assures him he never saved anyone and panicked when he couldn't get anyone out, and then blacked out. He tells him that people think he is the hero when he isn't, it is Cooper for taking the blame. Cooper tells him he is the hero as he jumped in the river, and even if he doesn't remember it, he saved them. Peyton calls Derek and speaks this time. As she introduces herself as the daughter of Ellie Harp, he tells her not to call again and hangs up.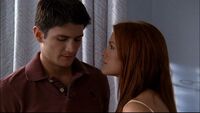 Whitey finds his tire flat just as Lucas drives past and offers him a ride. He drives him to the river court and shows him Skills and tells him the situation, but Whitey is stubborn due to Lucas letting down his car. Brooke goes to see Haley and tells her that Rachel caught her trying on maternity clothes. Haley drags her into the kitchen and tells her out of all the people who know about this pregnancy, Rachel should not be one of the them. Brooke promises her she didn't suspect anything as Haley thinks it is best them two only know. Brooke wishes she didn't know, but Haley says it is a bit late for that and asks if Lucas and her ever talked about pregnancy and Brooke said they had and he promised to be there, even though she could tell he was scared. Brooke then asks the same question about her and Nathan, which Haley reminds her of the night he freaked out about her not being on the pill. As Haley goes back to work, Brooke checks it will be ok, as Haley promises it will be, as she walks off, Haley says she hopes. She goes back to the cafe to talk to Deb, as she does, Deb knocks the gun out of her bag and it fires in the cafe. Haley screams and ducks, like the rest of the customers, but Deb smiles and says 'oops.' Dan is watching a news report where he hears himself claiming himself a murderer, but as he re-watches, he finds he misheard himself again. Rachel goes to see Cooper and only finds Nathan who tells her he has left Tree Hill. Rachel apologizes to him for her actions and promises to find a way to thank him. She kisses him on the cheek and realizes he has Cooper's eyes.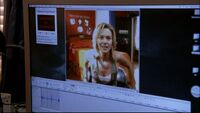 Peyton begins another podcast and reveals she has a brother and says she understands why he hung up as she is like that. She asks to reconsider if he watches this and asks to talk. Karen is throwing away a crib as she tells Haley how daunting it is to be pregnant, but Haley tells her it will be easier than being pregnant at 17 this time. Karen then asks Haley if Brooke is pregnant, but Haley says she doesn't know, but needs to talk to her about Deb. As they go in, Dan watches from his car. Karen goes to the cafe and demands Deb gives her the gun, and as they fight for the handbag, they find the pills in her bag. Deb tells her it is a little slip, but Karen tells her it isn't and asks her to go to rehab if she wants a joint company. Deb tells her to have the cafe and quits, not before picking up all the drugs off the floor and putting them back in her bag. Lucas goes to see Nathan and he asks to know what happened at the bridge. He tells Lucas he swam into the car and got trapped, and someone saved him as he blacked out. He asks Lucas if it was him, but Lucas tells him that people black out during adrenaline rushes and other extreme emotions. Nathan then tells him he saw someone else in the car, Keith.
Peyton and Lucas are in the car waiting to see Brooke as they talk about Nathan's revelation. As they talk about how much their lives have changed and how highschool is nearly over. Lucas tells Peyton how he used to watch her all the time and they laugh about it. Lucas then asks Peyton to go inside, for their friendship, but Peyton says he should as he is in love with Brooke. Peyton says that this is her birthday present for Brooke as she sends Lucas out saying she'll wait, wait for him. Haley gets home and tells Nathan about the gun incident at the cafe. Nathan tells her he will talk to his mom later, but he is going to the river court as he is sick of acting like the adult and will let his parents cope on their own for the minute. Dan goes to see Karen and receives the cold shoulder once again. As Karen tells him he will never be the guy to be there for her child, he brings in Lucas' old crib that she threw out, and surprises Karen. Rachel and Brooke are at a club as Rachel begins defending Peyton and Brooke's friendship. She says that if Peyton is willing to hide her feeling for Lucas when she doesn't have any for him, then that sounds like a good plan. As Rachel finds some boys for them to chat up, Brooke refuses to insisting it is too early for the both of them. At the mall, Lucas is watching all the lights being
turned off and still waits for Brooke. Someone walks up to him, only for it to be Peyton. She tells him that there is still hope for them as she didn't know he would be there, but there is no hope for them two. As the two walk away happy, Brooke watches from a distant, hurt with the sight.
Back in the car, Peyton offers to drive her to Rachel's to see if Brooke is there, but Lucas asks to go to the river court. Rachel leaves her one night stand in the middle of the night as Whitey tells Lucas he is putting Skills on the team. Brooke looks through all the different birthdays she has had in her album, all photos of her and Peyton together. Peyton gets home to find a boy on her doorstep, introducing himself as Derek. Rachel brings Brooke a cupcake with a candle as Brooke asks if there is anyone her age she could fall for, which Rachel replies maybe too and looks at a photo of Nathan. Haley joins Nathan at the bridge and asks him to talk to her, but he tells her he is trying to, but he doesn't understand it enough to tell her. She tells him they will work it out together as she is there for him. Brooke looks at the bottom of her cup, which is from Peyton, as Rachel apologizes for her birthday asking if anything memorable happened, which Brooke says one thing did and on her eighteenth birthday page in her album, she puts a picture of Lucas and Peyton together in. She blows out the candle unhappily on the cupcake.
Memorable Quotes
Voiceover
Music
"Currents" - Dashboard Confessional
"No Turning Back" - Tom Freund
"The Way You Do" - Five Time August
"One More Night (Your Ex-Lover Remains Dead)" - Stars
"Westgate" - Buddy
"Born On The Cusp" - American Analog Set
"Le Disko" - Shiny Toy Soldiers
"The Man Who Told Everything" - Doves
This episode's title originated from the album Things I Forgot At Birth, originally sung by Absentee.
Trivia
Episode References
Community content is available under
CC-BY-SA
unless otherwise noted.