This article or section is a stub. You can help the One Tree Hill Wiki by expanding it.
Tree Hill Café was a coffee shop opened by Tara Richards in Tree Hill, North Carolina. Tara quickly made the new café a rival to the newly reopened Karen's Café across the street, creating tension between Tara and the owners of Karen's Café, Brooke Davis and Haley James Scott.
Due to the animosity between Tara and Brooke, both coffee shops were enemies of the other. Tara later employees Brooke's aggressor, Xavier Daniels, at the café until he attacks Brooke again. He is subdued by Tara when the latter discovers Xavier's criminal past and Tara comes to the decision to halt her feud with Brooke and Haley by closing Tree Hill Café's doors.
The former Tree Hill Café storefront is later bought by Brooke and remodeled as the flagship store for her new fashion line, Baker Man.
History
Opening
For the "grand" opening Tara hired the chef of Karen's Café and maked many prospectuses. She installed a large banner on the facade of the Café. Later she replaced the banner with another one that read, Karen's Café Hires Murderers (after the hiring of Dan Scott by his daughter-in-law) causing Brooke and Haley to become angry. The banner is again replaced by Brooke and Haley and Brooke's sons Jude and Davis Baker by a banner with the inscription Tree Hill Cafe's Home the Diarreha Dog. But they are surprised by Tara.
Vandalism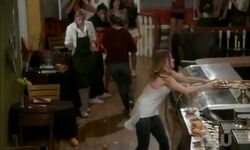 When Brooke realized that Tara had wrote the letter to Julian with the inscription
Fry your bugers Not your babies!
Brooke went to Tree Hill Café to vandalize it. She threw the food, broke the dishes, put the sauces on the walls... under the eyes, shocked, clients and servers. Leaving her devastation of the café as a message for Tara.
A criminal hiring
Because her problems with Brooke, Tara hired Xavier Daniels as waiter. Xavier was a criminal who had attacked Brooke in the past and wanted take vengence on her.But when Xavier attacked Brooke, Tara saved her in tasing Xavier.
Sale and Purchase
After saving Brooke, Tara decided to sell her café realizing how awful she was. The Café was bought by Brooke's family and became a store of Brooke's new compagny; Baker Man
People
Ownerships
Staff
Trivia
Brooke called the Café Tree Hill Bitch Café
Community content is available under
CC-BY-SA
unless otherwise noted.