Tree Hill Cheerleaders
were the squad that cheers for the
Tree Hill Ravens
basketball team. Tree Hill Cheerleaders have included
Brooke Davis
,
Rachel Gatina
, Peyton Sawyer and Haley James Scott. The Tree Hill Cheerleaders had been the squad for the Ravens since
Dan
and
Keith Scott
played for the
Tree Hill Ravens
.
Season 1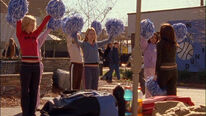 Cheerleading was introduced as a large part of both Brooke and Peyton's lives, despite the fact that Lucas couldn't understand why the latter girl even was one, quoting that she was 'the least cheery person' he knew. The girls were frequently shown observing Nathan and Lucas, both at basketball games and during practice. On the anniversary of her Mother's death, it was at cheerleading practice that Peyton got into a fight with Brooke calling her life 'pathetic' and storming off, presumably meaning that being a popular cheerleader meant nothing to her in the scheme of things. ("All That You Can't Leave Behind")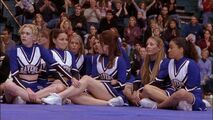 After being betrayed by her best friend and her boyfriend, Brooke becomes a tyrannical captain in preparation for the Sparkle Classic, freely admitting to Karen that she threw herself so wholeheartedly into cheering because she didn't want to think about the other things that were going on in her life. At the competition, Theresa, one of the cheerleaders comes down with chicken pox and gets sent home, unable to compete. Peyton begs Haley to fill in for her, and, although sceptical, she eventually does. The squad ends up staying up all night to practice, and Peyton comes up with new music, after Mouth informs them that three other squads are using the same song (after his performance of the other squads routine.) Although they don't go on to win the Sparkle Classic, Brooke does recieve a trophy for Best Original Choreography. ("Spirit in the Night")
Season 2
Season 3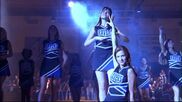 Haley James Scott become a cheerleader because Brooke asked her to join the squad.
Season 4
Season 9
All Cheerleaders in Known High Schools
First Generation
Notable members: Karen Roe, Shari Smith
When she attended high school, Lucas' mother Karen was captain of her squad and Tim Smith's Mother Shari Smith was also a cheerleader.
Second Generation
Notable members: Brooke Davis, Peyton Sawyer, Rachel Gatina, Haley James Scott, Bevin Mirskey, Theresa, Ashley
Brooke was Captain of the squad from her freshman to her senior year and she won Best Original Choreography at the Secret Sparkle Classic, which they attended once in both Season One and Season Three. They also supported the Ravens at the State Championship, that the team went on to win.
Other Members
Anna Sawyer (Possibly before Karen Roe's generation)
Tamara
Victoria
Kenzie
Daniella
Chelsea
Community content is available under
CC-BY-SA
unless otherwise noted.